How Sports Therapy Can Help You Recover Faster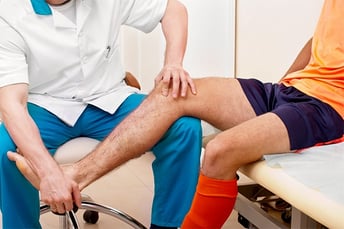 The most disappointing and frustrating thing is a sports related injury.
No matter whether you are a professional athlete or a weekend warrior - regardless of how you received your sports-related injury, or the type of sports activities you are involved in nothing can be more disappointing than an unexpected injury.
A sports injury can have you sitting on the sidelines (or on the couch) while your friends and family are enjoying themselves. Some minor injuries can be taken care of at home – but for most injuries, the fastest and best way for you to recover from an injury received while participating in a sport or physical activity is to visit a professional who specializes in sports therapy.
Sports Therapy Can Help You Recover Faster
Sports therapy deals primarily with injuries that are the direct result from sports related activities, but other conditions as well. It utilizes the principles both of sport and exercise that helps active individuals when they are injured – as well as helping to avoid injuries while doing the activities they enjoy.
As well as sports injuries, many people suffer from chronic back pain and work related injuries that may be successfully treated by a sports therapy specialist. Work related injuries can cause pain and prevent you from doing the things you enjoy.
Physically active people tend to be an independent group that are sometimes reluctant to seek treatment from a specialist until their condition becomes too severe to ignore. When an injury becomes serious, it is more difficult to treat and the time for recuperation is extended. The wise thing to do is to seek help before the condition worsens.
Sports Therapy Techniques
There are some areas of treatment that are unique to sports therapists and these treatments can make a big difference in alleviating the pain and discomfort of most sports ailments. Sports therapy also includes proactive training and strengthening measures you can take to lessen the likelihood of relapse or re-injury.
Core stabilizing
Muscle strengthening
Muscle stretching
Sports massage
Taping and strapping
Ultrasound
Treatment and prevention are key concepts for sports therapists to share with their clients and patients.
Goals Of Sports Therapy
Many sports therapists themselves are active in sports and physical exercise. They truly understand what it takes to remain healthy in order to continue with their activities. They have had advanced training in the field of sports medicine and prevention and impart their goals for the good of others.
Education
Rehabilitation
Pain management
Referrals
A sports therapist will help you through a sports injury as well as give you the information you need to continue to pursue the activities that keep you healthy. They are always eager to share their knowledge so that exercise and sports can be enjoyed without the worry of furthering a current injury or creating a new one.
---
If you have a sports injury that needs to be treated, or need advice or guidance on how to keep your body healthy and injury-free, make sure you go to your trusted sports therapist.