Different leg lengths are a source of distress, disability, and poor confidence for many people of all ages. If your legs are uneven in length, then you might not realize there is treatment available that can reduce the pain, discomfort, and mobility challenges you may experience. Dr. Shahab Mahboubian, D.O., MPH offers height enhancement and leg length discrepancy treatment.

Leg Length Discrepancy Treatment Options
This guide is to provide anyone with anisomelia (unequal leg lengths) who is considering leg length discrepancy (LLD) treatment with a realistic understanding of what to expect, so they can make the best-informed decisions regarding their care.
Hormone Growth Hormone Therapy
HGH (human growth hormone) therapy uses hormones produced by the pituitary gland to promote bone and tissue growth in prepubescent and adolescent children. Until puberty is complete, children's bones are capable of growing new tissue and bone with the right amount of hormone treatments. Their bone growth plates remain open/unfused so new bone tissue can grow or be added to achieve proper length or height.
Though quite popular, HGH treatment is not very effective for adults with different leg lengths. Adult bone plates are fused closed and unable to grow new bone tissue.
HGH therapy is FDA approved for many medical and cosmetic treatments, including anti-aging, muscle mass building, and weight loss. Off-label use and abuse in adults can lead to serious side effects, such as carpal tunnel syndrome, fluid retention, nerve damage, mood changes, elevated cholesterol levels, and cancerous growths. Also, HGH therapy is not a long-term cost-effective option for patients seeking more immediate and permanent results.
Orthotic Devices
Some patients with anisomelia regularly use orthotics to camouflage their different leg lengths. Shoe orthotics, leg lifts, and platform or high heel footwear can also help redistribute the weight load of the body to reduce pain in the back, hip, and legs. The downside to orthotics is routine fittings and adjustments are necessary for life. Patients with severe leg length discrepancies often find minimal to no relief with orthotics and may experience an increase in pain and discomfort.
Leg Lengthening Orthopedic Surgery
Surgery addresses the problem at the source. It restores symmetry to the limbs by making the shorter leg longer. Traditionally, surgery was only an option for children with genetic and growth abnormalities. Now, thanks to many advances in medical technology, adults can benefit from cosmetic limb and leg lengthening treatment as well. The procedure is an effective way to gain an additional three to six inches in height or leg length.
The Leg Lengthening Process
Dr. Mahboubian makes a small incision in the patient's knee or hip bone and another incision along the width of their tibia or femur bone so he can insert a special device (PRECICE STRYDE™ Nail system). After securing the device in place, he closes the surgical site, so the patient can heal.
During the next phase of treatment – the distraction phase, the PRECICE STRYDE™ Nail system gently and slowly stretches the bone while stimulating bone and tissue growth in minute increments over the course of several weeks to a few months, depending on the patient's treatment plan and desired length results.
Leg length discrepancy treatment uses the body's natural healing and regenerative abilities to stimulate bone tissue growth. To maximize bone marrow, stem cell and tissue production, patients may undergo a seeding procedure. Seeding involves the doctor placing small holes in the bone to increase oxygen delivery to the surgical area. Seeding also enables bone marrow cells to migrate to the surgical site to boost red blood cell and stem cell saturation and healing.
Recovery and Outcome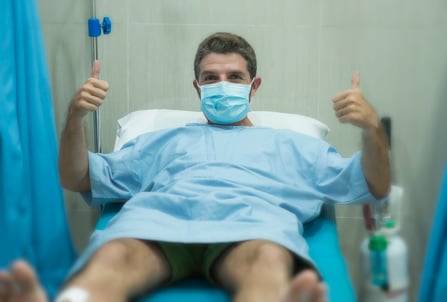 Thanks to the STRYDE system, Dr. Mahboubian's patients can resume their normal activities much sooner than with traditional treatments. The average time for complete recovery is three months. Patients receive medication and a comprehensive recovery plan to help them manage the pain and discomfort of their procedures. Patients may also benefit from incorporating more vitamin D and Calcium into their diets to further promote good bone health. Dr. Mahboubian encourages his patients to attend all follow-up meetings to prevent complications and facilitate adjustments as necessary.
Physical therapy is a vital component of the leg length discrepancy treatment process. Therapy helps strengthen the bones, tendons, muscles, and ligaments in your legs. It also improves mobility and function for long-term results. Most leg length discrepancy treatment patients complete physical rehab/therapy within one to three months.
Leg Length Discrepancy Treatment Risks
As with most cosmetic and traditional medical solutions, there are risks for patients to consider. Outcomes do vary. The risks associated with surgical limb lengthening treatment are minimal. A small percentage of patients may experience joint stiffness, blood clots, infection, and less than desired bone development and length results. In extremely rare cases, compartment syndrome can occur from a buildup of pressure in the blood vessels of the legs. Though unpleasant and painful, compartment syndrome is treatable and does not cause long-term impairment.
To mitigate the risk of complications, Dr. Shahab Mahboubian, D.O., MPH and the Height Lengthening staff vigilantly monitors each patient during and after their procedure. Patients can also influence their outcomes and minimize the risk of problems with proper pre-operative and post-operative care.
Leg Length Discrepancy Treatment Benefits
The benefits of leg length discrepancy treatment are hard to ignore. Living with anisomelia often leads to poor self-esteem, anxiety, depression, and severe body dysphoria. Fortunately, patients who undergo leg length discrepancy surgery experience the following benefits:
Better outlook on life
Significant boost in self-esteem
Less anxiety
Increase in personal and professional opportunities
Improved mobility
Greater independence
Less dependence on

orthotic aids

Desirable appearance
Taller height
It is important for patients to consider the impact of their condition on their lives and what they hope to achieve with LLD treatment besides the benefits.
Online and In-Person Consultations Are Available
During the consultation with Dr. Mahboubian, patients can expect to undergo a thorough assessment of their medical history, a physical exam, and take several x-rays. After careful analysis of all findings, Dr. Mahoubian will discuss treatment recommendations and explain ways patients can prepare for their leg length discrepancy procedures. Each patient also receives a recovery plan to follow for optimal results.
Contact Us
You don't have to live with two different leg lengths. Contact Height Lengthening at (818) 698-2258 to schedule a consultation with Dr. Mahboubian, D.O., MPH to discuss leg length discrepancy treatment options. You can also message us by email or our online contact form.