The Chandler Project: A Height Lengthening Journey
For Chandler Crews, 13 may be the luckiest number of all. That's because Chandler was able to add 13 inches to her height through limb lengthening surgery, giving her improved functionality, mobility, and independence. Now, she's dedicated her life to helping people like her.
What is Achondroplasia?
Chandler was born with achondroplasia, the most common form of dwarfism. Cartilage makes up much of the skeleton during early development. In achondroplasia, cartilage forms but the process of ossification, when the cartilage turns to bone, doesn't occur properly, particularly in the long bones of the limbs.
People with achondroplasia have short stature, due to an average sized torso, but shorter than average arms and legs. In addition to stature, achondroplasia can create limited range of motion and can lead to bowed legs and back problems.
At her mature height of 3'10" Chandler was below average height even for adult women with achondroplasia, for whom an average height is 4'1". Her legs were also severely bowed. Chandler felt that her condition left her with a lack of independence and functionality she wanted, so she decided to take action.
About Limb Lengthening Surgery
At the age of 16, Chandler decided to embark on a journey to lengthen her limbs. Height lengthening surgery increases the length of the long bones of the leg, either the femur (thigh) or the tibia (shin), and sometimes both.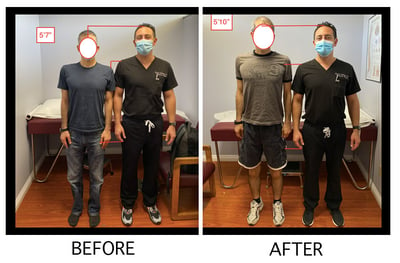 In the past, an external fixator would be used for limb lengthening surgery. This is a metal device affixed to the body from both the inside and outside of the leg bone, attached internally using plates and rods. The bone would be cut crosswise and the device would be manually adjusted from outside of the body, slowly pulling the bone apart. New bone would be able to form in the gap, increasing the patient's height.
Using external fixators, Chandler had procedures to lengthen both her femurs and tibias. These procedures helped her gain a little over six inches and made her feel encouraged to continue her limb lengthening efforts.
In 2012, at the age of 18, Chandler had surgeries to lengthen her arms—giving her an incredible 4 inches of added reach, making everyday tasks like washing her hair, sitting further from the steering wheel in a car, and dealing with feminine hygiene easier.
The following year, Chandler decided to lengthen her legs again, using the same Precice® system used at Height Lengthening by Dr. Shahab Mahboubian. The Precise® Stryde Nail System is a revolutionary system for limb lengthening because it is minimally-invasive and greatly improves recovery.
With the Precise® system, a cylindrical rod-like implant is placed into the bone to be lengthened. A remote control allows the patient to precisely lengthen their bone from the outside of the body using proprietary magnet technology. Over time the bone is gently pulled apart by just a fraction of a millimeter at a time. The body creates new bone tissue to fill in the gap until the desired height is reached.
When height lengthening is done in this way, recovery is much easier, allowing more weight-bearing after surgery so that patients can move around without crutches, and get back to their normal routine more quickly
With this procedure, Chandler gained an additional six inches, three in each femur and three in each tibia, to reach her final adult height of 4'11"—13 inches taller than when she'd started.
Building a Community of Support and Knowledge
Today, Chandler is the founder of The Chandler Project, a patient-focused nonprofit she started to provide those affected by achondroplasia and other forms of dwarfism/skeletal dysplasia with the latest in pharmaceutical research and surgical advancements. In the U.S., there is no other patient organization dedicated solely to those affected by dwarfism/skeletal dysplasia that provides this important information.
How to Connect with Chandler
Chandler's journey has led her to her career as a patient advocate, public speaker, and communications professional. Connect with Chandler to learn more about her work and her height lengthening journey.
Website: www.thechandlerproject.org
Instagram: @chancrews
Facebook: @chandlercrews
Twitter: @chancrews
Learn More About Height Lengthening
Based in Los Angeles, Height Lengthening provides cutting-edge limb lengthening solutions for people who are dissatisfied with their height. We provide each patient with comprehensive and meticulous care, from the very first consultation, so that you understand your treatment options. Our goal is to help each patient improve body image and self-confidence, ultimately making a positive impact on each patient's life as a whole.
Shahab Mahboubian, D.O., MPH, is an orthopedic surgeon specializing in Height Lengthening surgeries. He completed his training in limb lengthening and deformity correction surgery at the world-renowned Hospital for Special Surgery in New York, the #1 orthopedic hospital in the country according to U.S. News & World Report.
Dr. Mahboubian brought this highly specialized orthopedic practice to the West Coast with the most advanced techniques and skills in Height Lengthening surgery. Some of the wide arrays of surgical techniques utilized by Dr. Mahboubian include correction of bow-legs and knock-knees, deformities of the upper or lower extremities, leg-length discrepancies, bony malunions or nonunions, and cosmetic bilateral limb lengthening.