One of the latest trends to hit social media is mogging. It's a relatively urban term for bullying behavior that typically targets those with height deficiencies and insecurities. Thanks to TikTok, Twitter, Facebook, and other social media platforms, the number of people mogging or shaming those with height deficiencies due to genetics, injuries, or abnormalities is increasing. It's a significant reason many individuals affected (moggees) find it challenging to overcome the anxiety, shame, and embarrassment of a characteristic that's typically beyond their control.
Stigmas about height are embedded in the very fibers of society. Many people, especially moggers, are unaware of how fortunate they are to be taller than average. They often assume height is a genetic gift and have little empathy or consideration for those of average height or shorter. They even resort to toxic behaviors, such as mogging. Children and teens are not the only ones affected. Many adults live with anxieties and insecurities about their height.
How Does Mogging Occur?
Mogging is a term that refers to the use of intimidating or aggressive behaviors towards individuals with undesirable traits, such as size, height, or disability issues. These tactics are not always obvious. In many cases, they are subtle. Depending on the people involved and the circumstances, mogging can escalate from verbal confrontations to physical altercations.
Many men and women below average height feel uneasy or awkward in social and dating environments. When they interact with others, some people may start talking about their size or staring at them aggressively to make themselves more appealing or make targeted individuals (moggees) feel less significant.
The Insidious Effects Of Mogging Start Before Adulthood
Many people confuse playful teasing as harmless. However, when it comes to height, there's no such thing. Height is often a sensitive subject for those with insecurities about their size or appearance. According to Science Direct, height is a common source of depression, anxiety, paranoia, social stress, and negative self-confidence. In many cases, these concerns start during childhood and persist well into adulthood. Many individuals unsatisfied with their adult height were exposed to negative experiences, such as bullying from peers, disrespect, and discriminatory treatment at home, in the classroom, on the playground, and in other social settings.
While many people believe it's comical to make fun of those with less than average stature, the effects are toxic and can cause the following symptoms in moggees.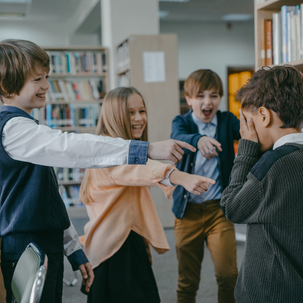 Body dysmorphic disorder
Poor self-confidence
Depression
Isolation
Anxiety
Suicidal thoughts or tendencies
Avoidant behavior
Physical, verbal, or substance abuse
The side effects of mogging are many, and they often influence every aspect of the victims' lives. Sometimes, it starts with seemingly harmless fun like teasing or simply being present and exerting dominance in personal and social situations to make the shorter individual seem less important or noticeable. Other times, mogging is overtly obvious and toxic, like name calling, making videos and jokes, and other typical behavior that targets victims and causes them extreme embarrassment, anxiety, or depression, especially in personal relationships.
Overcoming Mogging
In today's highly competitive society, any advantage is good, especially if it involves height. It's not always easy to counter the effects of mistreatment and mogging, especially from long-term exposure. However, the following strategies enable many mog-victims and those bullied or discriminated against due to limb abnormalities and height deficiencies to overcome the negative impact and change their lives and height for the better.
Identify Toxic Patterns
Learn about the different types of bullying and mogging behaviors. It's essential to know how to identify the signs to end this type of mistreatment and overcome related challenges. It's very common for moggers to use subtle toxic tactics to bully or height mog others. Mogging can also escalate into more overt and dangerous actions.
Stand Up for Self
Closed mouths don't get fed, and when bullying or mogging, the aggressor doesn't always realize their actions are offensive. Though some individuals may feel timid about the idea of standing up for themselves, it's one of the most important and empowering actions any victim of mogging or bullying can take. Many people who mog others, carelessly or for fun, are not aware of the impact of their actions on others.
Talk to Someone
Don't keep things bottled up. Bullying and mogging can be very harmful and subconsciously lead to toxic and negative behaviors, including mood swings, depression, anxiety, and poor self-confidence. Extreme reactions can lead to suicidal thoughts and abusive behavior towards others. Talking to someone to get those feelings out in the open is crucial to helping mog victims get the help and support they need.
Take Action
Depending on the circumstances, many different devices, accessories, and even assistive apparatuses help minimize overall stature issues. There are also herbs and medical supplements marketed for growth, development, and height, but their effects tend to be negligible. Still, they provide peace of mind to some.
Many people use temporary solutions such as shoe lifts to increase their height for social and work environments. Others use cushions to elevate their bodies when sitting to minimize the appearance of shortness. There are even ladders and aids to make it easier for those with height challenges to access things above their normal reach.
Height Increase Surgery
Height lengthening surgery is for those looking for a more permanent solution to achieve their ideal height. The results are not immediate. Limb lengthening surgery enables patients to grow up to 15 centimeters (6 inches) in height over several months. The transformation is more natural, less stressful, and permanent.
Anyone considering height or limb lengthening surgery should research the procedure to get a better understanding of how it works. They should also schedule an appointment with a height increase specialist to learn the risks and benefits that apply specifically to their situations.
---
---