Limb Lengthening Surgery Recovery
Many people have decided to permanently increase their height by undergoing the Limb Lengthening procedure. In the past decade, the latest height lengthening innovations have allowed for the surgery and recovery process to become easier and smoother.
Using the ERC System at Home
The PRECICE Nail System for limb lengthening was revolutionary because it allows doctors to provide limb lengthening treatments for patients less invasively. This causes less scarring and pain while still providing maximum height results. With this system, patients no longer have to wear a large, bulky external fixator during their recovery. It has also led to a more active, engaged role for the patient in the limb lengthening process.
The nail with a very strong magnet is inserted directly into the bone. After surgery, the External Remote Controller (ERC) allows for the noninvasive adjustment of the implant. Our office will program the ERC unit based on your individual limb lengthening goals. This advanced system allows the adjustment sessions to take place in the comfort of your own home—sessions take only minutes each day!


After surgery, you can return to your normal routine much faster than would have been possible with previous, more invasive limb lengthening surgery techniques. In your at-home sessions, you'll place the ERC handpiece directly above the location of the implanted nail. The unit applies magnetic force to incrementally lengthen the bone, helping you achieve a 1-millimeter increase in height per day.

Follow-ups with Doctor
Some people may be surprised at how quickly they begin to grow new bone and gain new heights. After surgery, Dr. Shahab Mahboubian, D.O., MPH, has regular follow-up visits with each patient to ensure the growth process is running smoothly.


"I like to see my patients every two to three weeks to make sure that their bone is growing nicely and everything is looking straight as it should be," says Dr. Mahboubian.

At follow-up visits, Dr. Mahboubian will also re-mark the legs, with a marker on the skin, to ensure the most accurate and direct communication between the ERC and the nail. He uses a regular compass to determine the exact location of the magnet.



Rehabilitation and Physical Therapy
Each patient is engaged with the lengthening process through at-home lengthening sessions with the ERC device, but that's not the only active part of recovery after limb lengthening surgery. An active commitment by the patient to rehabilitation is essential to a good outcome. With your new bone regrowth, muscles, ligaments, and tendons will need to stretch to accommodate your new bone length.
Physical therapy sets you on the path to proper healing by teaching you how to train your body for the best range of motion and avoid joint stiffness or other musculoskeletal side effects from the lengthening procedure. Typically, you'll be committed to physical therapy for one to three months following surgery.
How to Maximize Your Recovery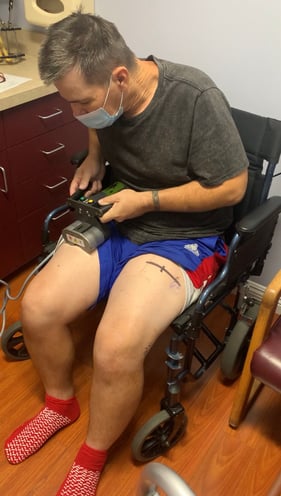 Our office will provide you with detailed instructions for your recovery that will help you maximize your growth and healing. In order to form strong new bone to fill the space where the limb lengthening occurs, you must make sure to give your body the proper nutrients to support it. We'll recommend supplements and foods to eat to support your body in the amazing growth it's doing—calcium and vitamin D will be among the most crucial to incorporate in your diet and supplement plan.
We'll talk you through other behaviors that can help or hurt your healing. It's a good idea to avoid smoking and nicotine, for example. Please inform Dr. Mahboubian about any over-the-counter or prescription medications you take so that we can advise you on medications that you may need to avoid during your recovery. We will inform you of safe alternatives you may be able to use. It's also critically important to talk to Dr. Mahboubian about when to start bearing weight after surgery. Bearing weight too soon can hurt your height progress and cause injury.
The recovery time is 3-4 months before you can walk without any assistance and 6-8 months for competitive sports. The new PRECICE nail system can withstand up to 250 pounds (113 kg) of weight bearing after surgery. This allows patients to move around without crutches after a few weeks and makes recovery time much easier.
Even with the PRECICE nail system, in the beginning, you will need a walker for short walks. You will only need to use a wheelchair for long distances when getting the procedure done with the PRECICE nail. With the PRECICE nail, you can transition to crutches faster and need no helping devices after a few weeks.
Ready to Join the Height Revolution?
With the latest in surgical technology at our fingertips, we're able to safely and less invasively help patients reach their height goals. Dr. Mahboubian is a national leader in this advanced surgery and a committed partner for his patients in their surgical recovery and the lengthening process.