The Hidden Struggle: Uncovering the Battle for Well-Fitting Clothing Among Short-Legged Individuals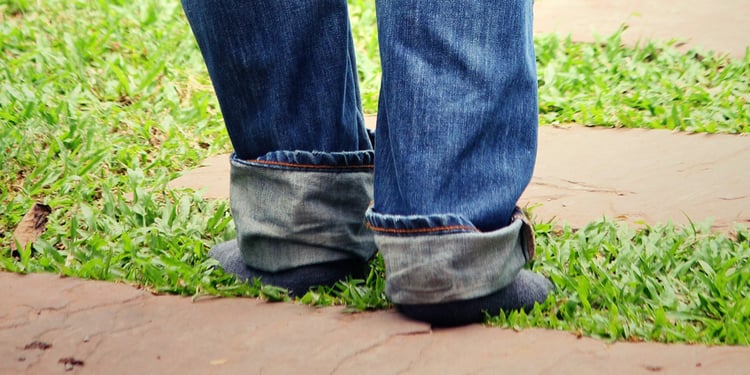 In the world of fashion, there's an often overlooked struggle that a substantial portion of the population faces daily: the quest for well-fitting clothing among short-legged individuals. This issue is more prevalent than many might imagine, and it extends beyond a mere inconvenience. It's a challenge that impacts self-esteem and confidence, contributing to an unending journey of clothing alterations and custom orders.


Understanding the Challenge
Fashion standards, in their effort to cater to 'average' body shapes and sizes, often overlook individuals who don't fit into these categories. While strides have been made to accommodate various body types, those with shorter legs continue to face hurdles when shopping for clothes that fit well and flatter their unique body proportions. It's not just about pant lengths dragging on the ground; it's also about the fit and cut of dresses, shorts, and even swimwear that's designed with taller, longer-legged consumers in mind.
Short-legged individuals often have to grapple with unbalanced proportions in clothing, such as high waistlines, excessively long dresses, or ill-fitting suits. These clothing items can make the wearer feel uncomfortable, not to mention the added time and expense of getting them altered to fit correctly.


In Search of Solutions
The solution for this demographic is not as straightforward as shopping in the petite or short/small section. These sizes cater to individuals who are overall smaller in stature, not specifically those with shorter legs. Moreover, they do not cater to short-legged individuals who might have a longer torso or larger waistline.
To this end, clothing brands need to embrace a more inclusive approach to sizing and cuts, offering variety not just in terms of size, but in proportions and style too. This could mean expanding size categories or offering more 'custom fit' options.


The Rise of Custom-Fit Fashion
Luckily, the rise of custom-fit fashion provides a much-needed respite for those struggling to find clothes that fit. Many popular brand names offer clothing tailored to exact measurements, providing a potential solution for short-legged individuals. While these options are often more expensive, the investment ensures a better fit and less need for alterations down the line.
Similarly, shopping secondhand or at vintage stores can sometimes yield pieces with more varied proportions. As sizing standards have changed over time, older, more traditional pieces may offer a more desirable fit.


Advocacy and Body Positivity
In the quest for better-fitting clothing, short-legged individuals should also embrace body positivity. Celebrating one's unique body shape can create a sense of confidence, regardless of clothing challenges. Advocacy for body diversity in fashion can also lead to more inclusive sizing standards, benefiting all those who fall outside the 'average' or tall size spectrum.
Influencers and public figures who are candid about their experiences with clothing alterations and custom-fit clothing, play a pivotal role in bringing attention to the issue. The more openly these struggles are discussed, the greater the push for brands to diversify their offerings.
Being unable to find clothes that fit well is an ongoing struggle for shorter individuals. More often than not, they face common issues such as overly long trousers, oversized outerwear, or dresses that are designed for taller frames. The constant need to alter or adjust clothing can be disheartening and, over time, can significantly impact one's self-esteem.


Impact on Self-Esteem and Confidence
It's important to acknowledge the psychological implications of wearing ill-fitting clothes. When our clothes don't fit well, it can make us feel uncomfortable or self-conscious. For short individuals, this feeling is often exacerbated as they navigate a world designed for 'average' heights.
Constantly feeling like an outlier in the clothing world can lead to feelings of exclusion or frustration. These feelings, over time, can erode self-confidence and negatively impact one's body image. The result? A vicious cycle of dissatisfaction and discomfort that goes beyond the physical.
Perceptions and Misunderstandings
Clothes that are ill-fitted or not designed to flatter shorter frames can also contribute to misperceptions about one's personality, skills, or capabilities. In professional settings, this can result in 'height bias,' where shorter individuals are viewed as less competent or authoritative.


Physical Implications
Beyond the psychological impact, wearing ill-fitting clothes can also have physical implications. Clothes that are too long or too large can pose a tripping hazard or get caught on objects. Overly tight clothes can cause discomfort and restrict movement.


The Financial Toll
Shopping for well-fitted clothing when you're short often comes with an additional cost burden. Purchases often need to be followed by trips to the tailor for alterations, adding an extra layer of expense.


Moving Forward: Advocacy and Change
To address these impacts, it's vital to push for more inclusive sizing in the fashion industry. Advocacy can result in brands becoming more aware of and responsive to diverse body shapes and sizes, including those who are shorter.
As we wait for industry changes, let's embrace and celebrate our unique bodies, and use fashion hacks to our advantage. This might mean learning some basic tailoring skills, finding a trustworthy local tailor, or embracing brands that offer customizable lengths and sizes.


Fashion Hacks and Tailoring
Fashion is a powerful tool for self-expression. It impacts not only how others perceive us, but also how we view ourselves. For shorter individuals, the struggle to find well-fitted clothing is a common frustration. Yet, the impact of ill-fitting clothing extends beyond inconvenience. It's an issue interwoven with body image, confidence, and self-esteem.
In the meantime, short-legged individuals can rely on certain fashion hacks to make mainstream clothing work for their body type. Opting for high-waisted pants and tucking in shirts can create an illusion of longer legs. Vertical stripes can elongate the figure, making the legs appear longer. Similarly, shoe lifts can add a few inches to one's stature as well. Of course, if all else fails, there's always height lengthening surgery, a procedure that makes the legs longer so patients are taller. Although the limb lengthening process takes several months to complete, the results are permanent.
Yet, nothing beats a good tailor. Although it might require an additional investment, having clothes professionally altered can ensure a perfect fit.
The impact of ill-fitting clothing on shorter individuals is significant, influencing psychological well-being, perceptions, safety, and financial equity. However, acknowledging these challenges is the first step toward initiating change. By advocating for more inclusive fashion standards and embracing our unique bodies, we can start to rewrite the narrative and foster a more inclusive fashion world for all.